Automatic Backup Power
Within Seconds!
A standby home generator keeps your power on during an outage. It's installed outside your house (like an AC unit) and comes on automatically — whether you're home or away. All within 10 seconds of a power outage. Plus, home generators run on propane or natural gas, so there's no refueling.
All Kohler generators can power your entire home. Take a look:
The Automatic Transfer Switch is always monitoring your home's power. When utility power is interrupted, the ATS automatically (within seconds!) transfers the electrical loads from the failed utility to the generator. The generator's exclusive Powerboost™ technology provides excellent starting power. When utility power is restored, the ATS turns off your generator and returns your home's power to the utility grid.
Kohler OnCue Plus Generator Management System - Remote Monitoring
This handy add-on helps you manage your power, communicate with your generator, and more! Whether you're at home, traveling, or on the go, you'll never have to worry about the power in your home or business.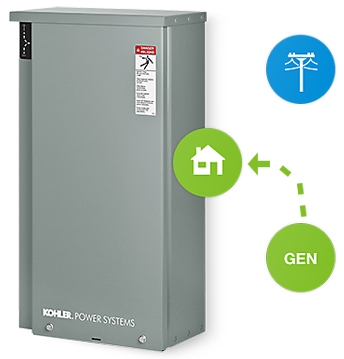 WHAT IS A HOME GENERATOR?
HOW DOES A GENERATOR WORK?